Peoples Dental Clinic Best Dentist in Greater Noida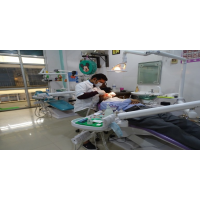 Peoples Dental Clinic Best Dentist in Greater Noida
FS Plaza, Shop 5, Ist Floor, Jagat Farm, Block E, Chandila, Gamma 1
201310
Greater Noida 201310
,
India
Request for information
Peoples Dental Clinic Best Dentist in Greater Noida Company Bio
General information
Peoples Dental Clinic in Greater Noida is your search for best dentist, Pediatric Dentist or Child Dentist or Kids Dentist, Orthdontic Braces for Teeth Straightening, Dental Implants, General Dentistry, teeth whitening services, RCT, Dental Crowns and all dental problems. We are located in Jagat Farm, Greater Noida since 2013 and stand high among best dental practices here. We have adequate modern dental infrastructure and equipment including 3 dental chairs, 2 Radio-graph Facilities. Dr. Ishan is chief dentist and Dr. Binny Vashist is Pediatric Dentist or child dentist. The dental clinic provides best pediatric dentistry and general dentistry under one roof in Greater Noida. Peoples Dental Clinic is ISO 9001:2015 certified dental service.
Our experienced team of MDS dentists offers world class dental treatments. The prime focus has always been matching the global dental standards along with affordability. We strongly value the faith of patients in us over the years. And strive to serve them better day by day. We have made our name for team of Best Dentist in Greater Noida. Our Dentists believe in respecting the original condition of the tooth and thus direct dental treatments towards conservative approach. The dental team is abreast of all the updates in dentistry through various CDE programs, Conferences, Seminars & Sessions. Dentists at Peoples Dental Clinic are dedicated to keep your oral health at an optimal level.
Its a feeling of immense proud in being the best dentist in Greater Noida through your faith in us. We will always upgrade towards the ultimate goal of your oral health improvement and be the best dental clinic in Greater Noida. We wish you all the best with your Oral Health, Smile and Happiness.
Company offers
Dental offer on Mouth ulcer treatment at Peoples Dental Clinic in Greater Noida
1) Apthous Ulcer – Free treatment with Medicine at Peoples Dental Clinic, Greater Noida
Valid Mar 1 – Mar 28
2) Free Consultation and Medicine for Apthous ulcer problem in First 10 patients from 01 Mar, 2019 at Peoples Dental Clinic, Greater Noida
3) Show this code at the shop
FIRST-TEN
Valid 3/1/19, 12:00 AM – 3/28/19, 11:59 PM
Terms & Conditions
Offer applicable for first 10 patients from 29th Feb 2019 onwards
Dentist discount and offers for Mothers
1) All we can do best for the mothers is to provide them our services at discounted prices. Explore the offer below :
A. The offer will enable women of 50 years age or above to avail all our dental services at 30% discount on Final Billing.
B. Our dental treatments are not over-hiked to compensate this offer.
C. For availing the offer kindly bring any valid Govt. ID as Age Proof.
D. The offer can not be clubbed with any other offer or coupon through our site or any other website that enlists our dental clinic.
E. In case of conflicts or objections, the final decision shall be in the hands of Dental team at Peoples Dental Clinic.

Cheers to Mothers
Contact us for these Dental offers
Name : Peoples Dental Clinic Best Dentist in Greater Noida
Address : FS Plaza, Shop 5, Ist Floor, Jagat Farm, Block E, Chandila, Gamma 1, Greater Noida, Uttar Pradesh 201310
Phone Number : 08130624837
Company is looking forward for
Best Dentists in Greater Noida
FS Plaza, Shop 5, Ist Floor, Jagat Farm, Block E, Chandila, Gamma 1 Greater Noida 201310
Opening hours

Phone numbers

Websites

Establishment year

2013

Activity form

Services

Law form

Private establishment

Categories

Keywords

dentist in greater noida, dentist near me, best dentist near me, dentists near me, dentists in greater noida, child dentist in greater noida, best child dentist in greater noida, child dentist near me, child dentist, pediatric dentist, pediatric dentist near me, best pediatric dentist in greater noida, pediatric dentists in greater noida, pediatric dentists near me, dental clinic, best dental clinic in greater noida, best dentist, best dental clinic, best dental clinic near me, dental clinics in greater noida, dental clinics near me, orthodontist, teeth straightening, braces , orthodontic braces, cosmetic dentist, dental surgeon in greater noida, dental doctor in greater noida, teeth whitening, top dentist, top dentist in greater noida, top 10 dentist in greater noida, dr. binny vashist, dr. ishan dentist greater noida, peoples dental clinic, dental cleaning, dental, tooth pain, toothache, endodontist, periodontist, dental implants cost, dental implants in greater noida, dental implants treatment in greater noida, dental implants dentist greater noida, denture, fixed teeth treatment, teeth doctors, kids dentist in greater noida, kids dentist near me, best kids dentist , best kids dentist in greater noida, dental treatment of child teeth, milk teeth problems, RCT, root canal treatment, dental crowns, zirconia dental crowns